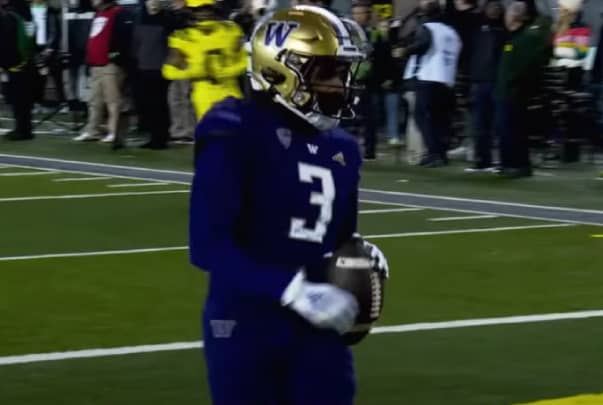 Washington Huskies receiver Taj Davis scores a touchdown against Oregon.
The Washington Huskies upped their record to 8-2 with an improbable 37-34 upset over #6 Oregon. Here are our seven big takeaways.
The Washington Huskies ended the Oregon Ducks' 23-game home winning streak and undefeated Pac-12 season. The game looked like it would come down to the end, which is what exactly happened. 
Takeaway #1 – Breaking Autzen
Going into Autzen Stadium, the home of the Oregon Ducks, isn't an easy task. Then throw in a hostile crowd, a bitter rivalry, and UO's 23-game home winning streak on top of that. 
The Washington Huskies' offense played as though they were in for a fight. UW believed they had a chance to win despite being almost two-touchdown underdogs. 
Takeaway #2  – Penix stays cool
For the second week in a row, Washington Huskies quarterback Michael Penix Jr. rallied after throwing an interception. UW looked like they would take an early fourth quarter lead with a first and 10 on Oregon's 11-yard line.
Instead of running out of bounds, he threw an ill-advised off-balance pass. The ball was tipped into the hands of UO linebacker Jeffrey Bassa resulting in a costly turnover.
After a long drive where the Ducks kicked a field goal, Penix threw a 62-yard touchdown pass to Taj Davis with 3:07 left in the fourth quarter. This TD tied the game at 34-34.
Penix finished the game 26 of 35 for 408 yards and 2 touchdowns. 
Takeaway # 3 – It takes four
The Washington Huskies' top four receivers did a great job. Jalen McMillan (8 receptions for 122 yards), Rome Odunze (6-56), Ja'Lynn Polk (3-95, 1 TD), and Davis (1-62-1) all contributed.
Polk and Davis scored two receiving touchdowns on huge plays. McMillan probably had the most important catch of the game when he wrestled the ball away from the Duck defender late in the first half. It led to a Husky field goal that put them ahead 13-10 at halftime.
Takeaway #5 – Got to wrap em' up
Washington's defense gave up 592 total yards, including 305 on the ground. The Huskies, who averaged 12.5 missed tackles a game, had 9 in the first half.
Admittedly, it isn't easy to tackle the Oregon running backs and receivers, but the Huskies defenders need to tackle better. In the last four minutes, when it counted, they did a good job.
Alex Cook tackled UO quarterback Bo Nix short of the first down marker with just over four minutes remaining in the game. Nix was injured and missed several plays.
Oregon had to settle for a field goal which put them up by 7 points, before Taj Davis' touchdown a minute later.
Takeaway #6 – Mr. Clutch
Another week, another winner. Veteran kicker Peyton Henry made it two straight weeks that he kicked a last-minute field goal to win the game.
Henry was three for three on the day, which included the difference maker from 43 yards out with 51 seconds left in the game. 
Takeaway #7 – A 10-spot
The 8-2 Washington Huskies have two games remaining in the season. Next Saturday, they take on Colorado at home, followed by the Apple Cup in Pullman, and then a bowl game.
They still have a shot at the Pac-12 Championship game, but that's a far-off dream. They can still win 10 games this season, something no one thought would happen when the season started. Go Dawgs!
Tell us your thoughts on the Washington Huskies big win.