ENID, Okla. — Mike Steinke belly-laughed as he recalled someone calling the city's new soccer complex "the Garden of Enid."
"It'll really be beautiful," he said Wednesday as he drove around the construction site of the Advance Soccer Complex, on South Garland south of Walmart.
The years-long project, though, is still in the seven days of creation.
The Advance Soccer Complex project is roughly halfway complete, said Steinke, the interim executive director of the Enid Sports Association, the organization building the complex and maintaining it once it's open for business.
All of the facility's above-ground work is now underway, including building the 25,000-square-foot, 38-foot-tall club house, installing light poles and planting trees. More equipment for an outdoor playground is set to arrive in a month, he said.
The seven-field complex is expected to be open by October or November this year, Steinke said.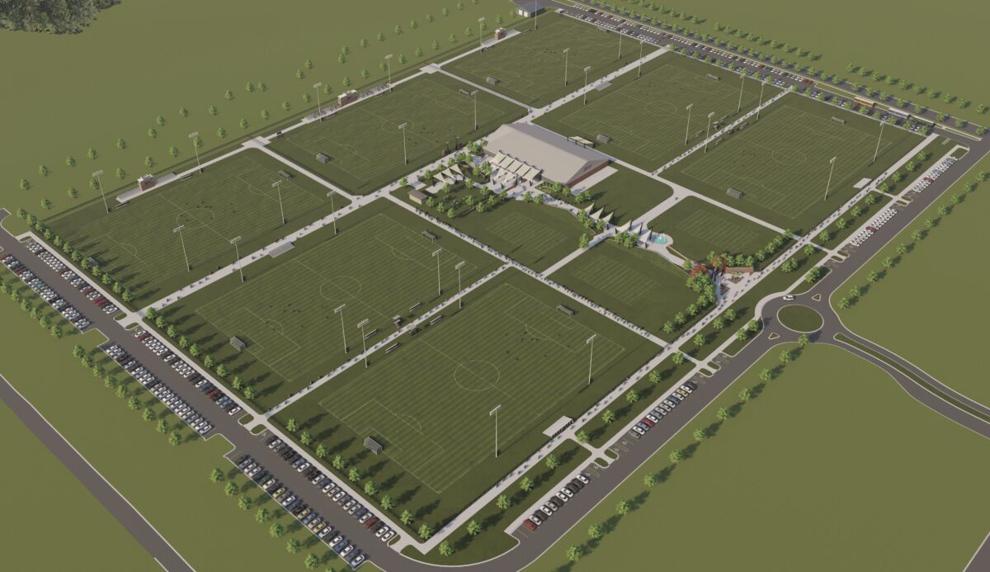 "The hook is, you can see it," he said. "Now, it becomes real."
The project began in 2017 when the Enid Sports Association was created with private foundation donations, but the COVID-19 pandemic had put a stop to fundraising for around a year and a half to two years, Steinke said. A groundbreaking ceremony last August had marked the start of construction.
In the last year, Steinke himself has had more of a hand in the project, having become the association's interim executive director while also serving as a co-treasurer and board member.
A day trader by day, he said costs on the complex now total around $12 million, covering increases for technology upgrades.
The project is, by far, the city's largest private-public partnership.
Foundations for Enid's Allen and McLaughlin families have now contributed more than their initially reported $1.5 million donations each, Steinke said. The rest of the funds came from outside private donations, both corporate and personal.
The city of Enid also has spent over $3.6 million on infrastructure support, such as adding water and sewer lines, stormwater drainage, parking lots, sidewalks and road connections, City Manager Jerald Gilbert said Thursday.
All these projects were allocated in three fiscal years' worth of city budgets, as well as subsequent project contract awards to each project, Gilbert said.
With seven regulation-sized fields, area for bus parking and a club house centerpiece, the complex would ideally host local soccer club tournaments, college games and regional and national tournaments.
The complex would be readied for soccer teams that'd include local school teams and the city's several adult and youth clubs, said Steinke, a former volunteer soccer coach for Enid High School.
"It's all-encompassing. It's really cool," he said. "It's been real fun to be involved in this."
An Edmond flag football group also had contacted the association about playing games at the new complex, he added.
"I'm giddy," Steinke said, standing outside the hollow field house looking out at the empty fields and lots muddied from an overnight rainstorm. "I literally can stand out here and with my mind's eye, I see just groups playing at different levels, different sports, different ages. …
"There's visible progress now," he said.
Place to overflow
Ten light poles were set be installed at the new complex on Friday, with another 50 trees planted later that weekend.
Mark Feightner, board president of the Enid Soccer Club, said the new lights would be the biggest improvement for the club's nearly 60 competitive and recreational teams, which play in the fall and the spring at the current complex near Van Buren's northern overpass.
Both sets of teams play in the fall season, which starts losing daylight and getting dark by 5:30 or 6 p.m., so Feightner said new lights would then extend practice hours.
"That right there is a huge improvement in our situation to what we can offer," he said about the Advance's new lights.
Feightner said the club has around 750 members — about 80% playing recreational soccer — but he expects to grow enrollment in the fall once the complex opens.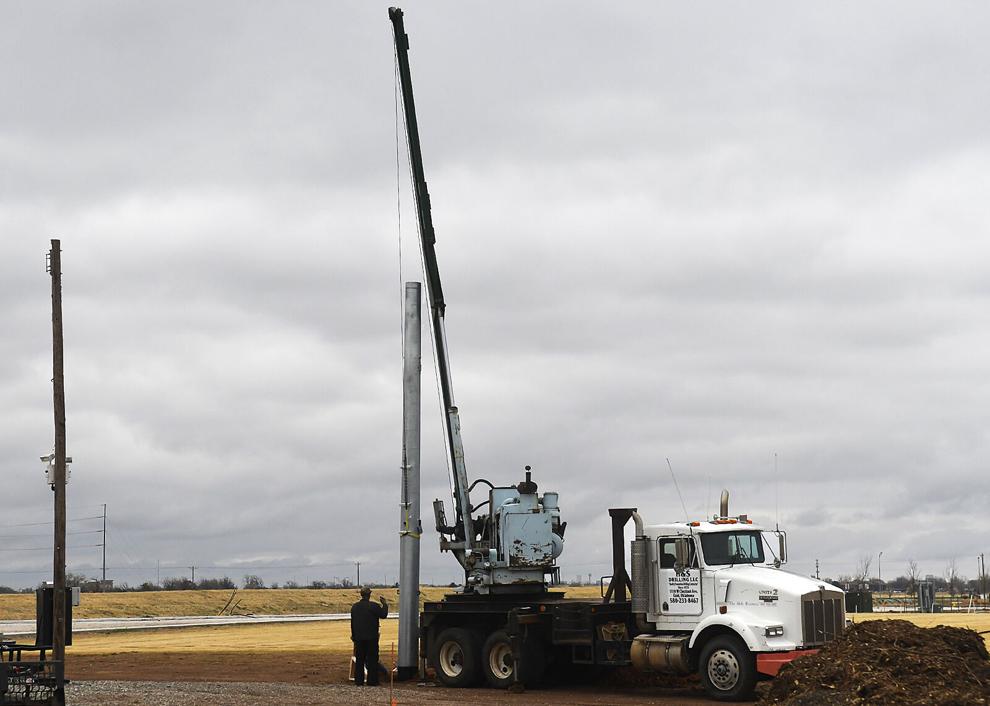 Enid Soccer Club has had a longstanding agreement with the city of Enid to use the current soccer complex, located at 1520 W. Poplar.
Because club practices are intended to be moved to the new complex, Feightner said the club intends to keep the current one primarily as an overflow for large tournaments, using both facilities at the same time.
Fifteen varying-sized grass fields sit on the city-owned property, which city workers maintain throughout the year.
Unlike the Advance Soccer Complex, the land also sits on a flood plain and doubles as a stormwater detention channel, which collects rainwater from the north behind Jumbo Foods and fills up the complex with water and associated debris.
Feightner said this has been the biggest problem with holding games and practices at the complex.
An upgrade to the channel this year has been well-timed as the Advance complex nears completion, City Manager Gilbert said.
"Over time when it rains, and there's more water on the fields, there's the potential for more times when the fields won't be available to play on," Gilbert said.
He said the city would continue to maintain the current complex for everyone to use to practice, though.
On Tuesday evening, Enid Soccer Club volunteer coach Drew Ritchie's team of 18 boys had half of field 11 — one of the two regulation-sized fields — on the westernmost edge of the complex when the sky started to drizzle.
The rain pattered the field for 15 minutes, but the boys said they still weren't used to playing on the soggy grass.
Ritchie coaches both of his sons, Evan and Zack, on the soccer club. Between their two club teams, the boys had three games this past weekend.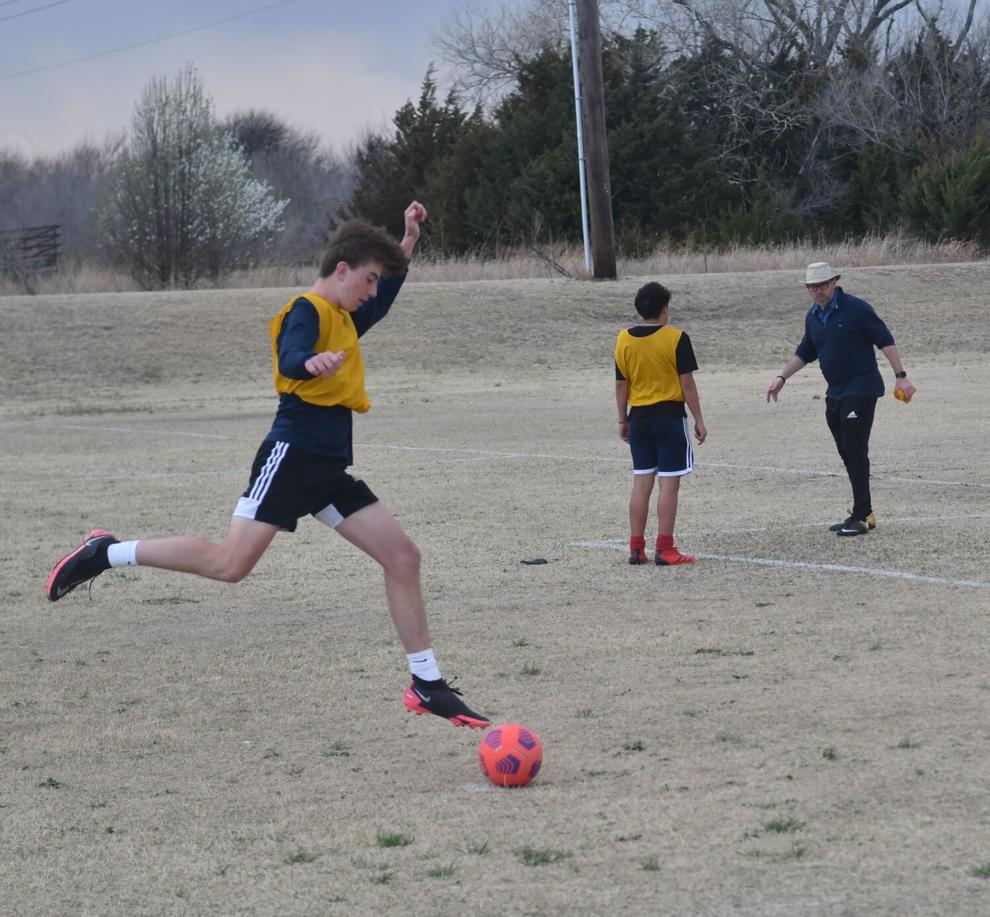 "And quite honestly, it's one of these things, (when) we have games, will the field dry out?" he said.
Evan, an eighth-grader at Waller Middle School, said he prefers running on the turf fields, like the football field at D. Bruce Selby Stadium that Enid High School's soccer teams use during spring season.
High school players don't play on grass, while club typically doesn't play on artificial turf.
"Anywhere we go, when they have turf fields, I just enjoy it more," the 14-year-old center back said before practice Tuesday. "It's more smooth to play on. It's a lot easier to play on."
'Like a sisterhood'
Enid Soccer Club is the primary avenue for soccer until a child reaches seventh grade, when school sports become available, said the elder Ritchie, who also is an assistant coach at Waller Middle School.
In Enid, seventh- and eighth-graders play together on the middle schools' teams. Waller has its own boys and girls soccer teams, while Longfellow and Emerson middle schools share teams.
Then, once students start at Enid High, the clock tends to run out on their time with the soccer club, Ritchie said.
Enid Public Schools' high school and middle school teams easily play between 40 to 60 total games a year, district officials said.
"There is a big differentiation between what's club soccer and what's school soccer," he said.
EHS players Jarely Casillas and Cassidy Fitzgerald started playing soccer at the Enid Denny Price Family YMCA before joining club teams and then playing in middle and high school.
"Growing up, a lot of girls decide they don't want to play anymore (after club)," said Jarely, a former club player herself, as she rolled a deflated ball in the players room at Selby Stadium. "And high school soccer is really time-consuming."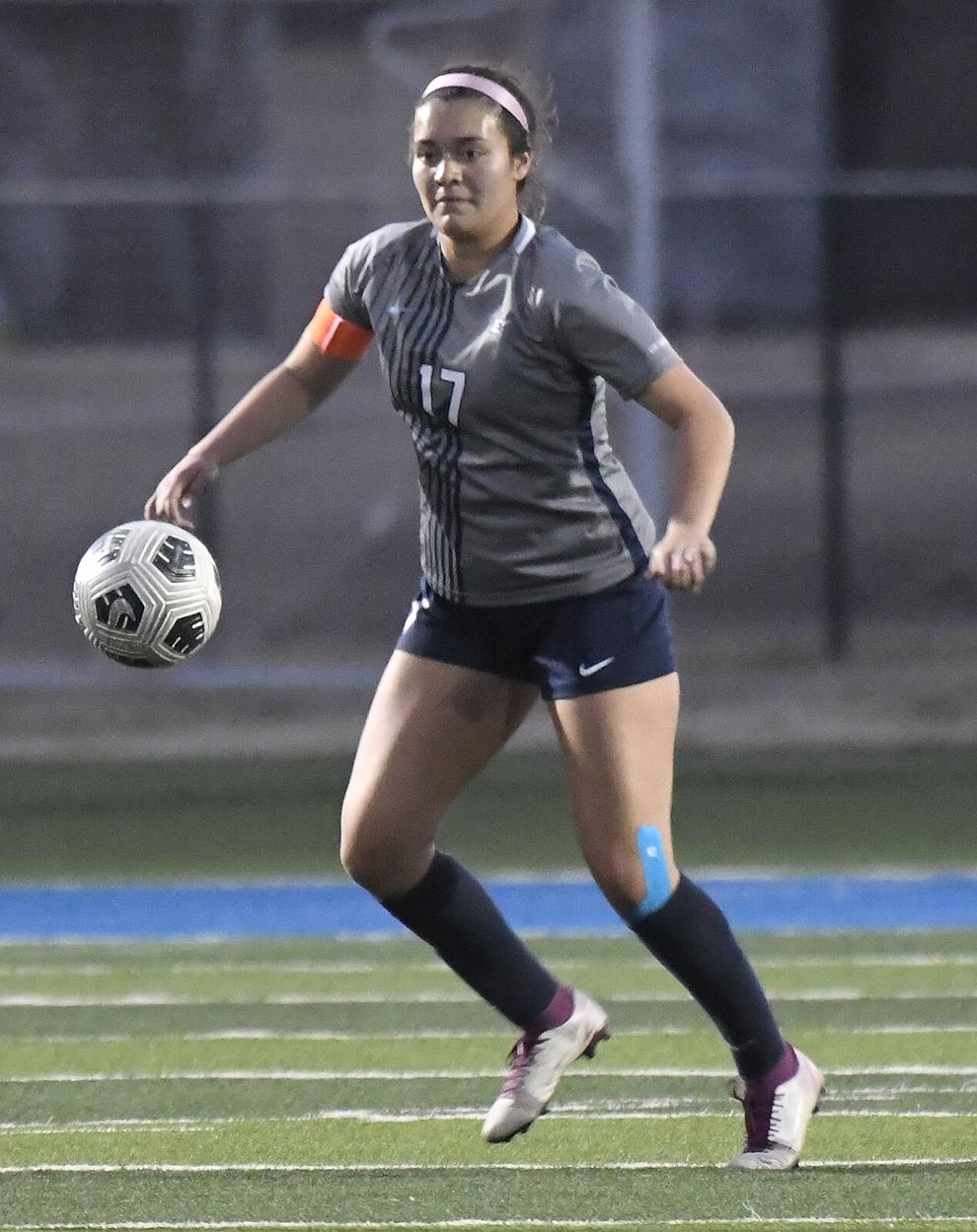 Cassidy said she'll often have dreams about the sport after a long practice.
"After I've had a full day of soccer, I'm like, 'Oh my gosh, I can't get this out of my head, I just want to go to sleep,'" she said.
Both girls said they followed in their older sisters' footsteps in taking up the sport, taking the sisterhood of the sport literally.
"We don't get to see the middle school that often, but we are like a sisterhood with the middle school girls, because we always have something in common," Cassidy said. "It's soccer. We love to compete. We're there for the same reason."
She would suit up later to join their teammates practicing 7 vs. 7 drills outside on the field at Selby Stadium in preparation for this weekend's district playoffs.
Their coach, Tim Lavoie, said the school's athletic department would formally address the move at the end of the 2022 season, which as of Friday had the girls sitting at 5-4, as well as boys at 7-2.
EHS soccer teams currently practice and compete during the spring season at Selby Stadium.
"Here we have a really nice home environment," he said. "When the student section's here, you hear it big time."
The field gets crowded in the spring, Lavoie said, with half of the 100-yard field shared with the boys team, while football uses the nearby practice fields.
By this fall, all of the games and practices could be moved out to Advance Soccer Complex, which also has only one artificial turf field, along with six more regulation-sized natural grass fields, Lavoie said Tuesday.
EPS teams had previously used the arena at Stride Bank Center, which charged the district $32,000 for 11 events, district officials said in February.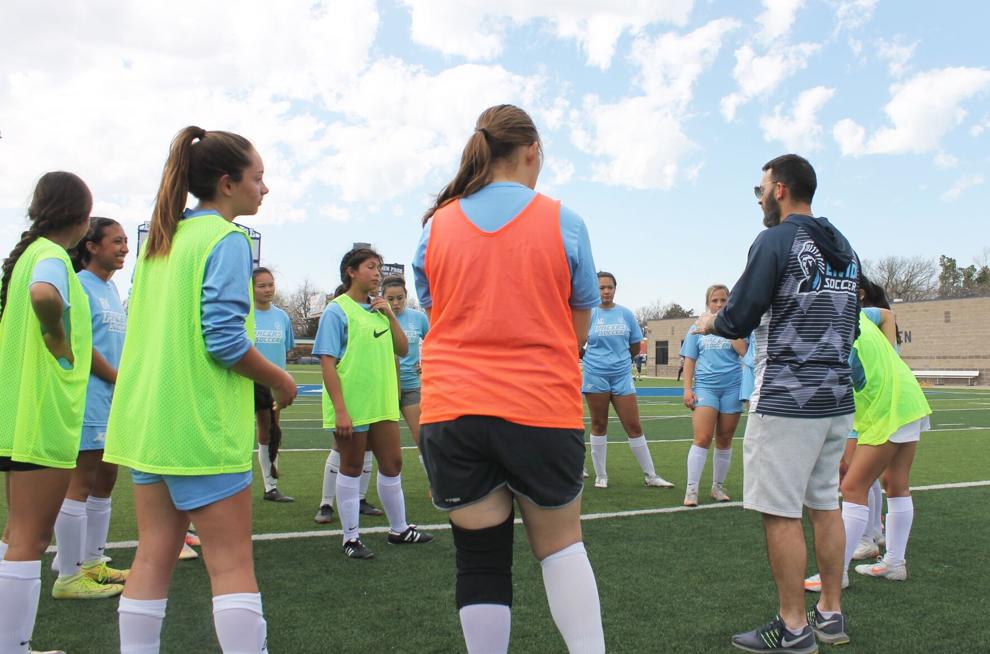 'Unbelievable' potential
EPS is set to begin a 10-year joint-use agreement with the new complex, which would include a regulation-sized field on which its soccer teams could practice and compete.
For the first two years of the agreement, EPS will pay the Enid Sports Association an initial $300,000. The agreement, which school board members passed in February, would be renewed on an annual basis.
"The potential's unbelievable, it truly is," EPS Assistant Superintendent of Secondary Education Dudley Darrow said during the meeting.
Superintendent Darrell Floyd said when talks first began about the complex with all the project's major stakeholders, EPS agreed that it would contribute this amount.
For the first two years, the district won't be charged for maintenance or cleaning, which it currently is responsible for at the Allen family's other major sports complex, David Allen Memorial Ballpark.
After 2024, district and ESA leadership would together determine additional maintenance costs, Floyd said.
The funds, drawing from the district's excess sales tax revenue, would also help cover construction costs of the competition field.
Lavoie said unlike Selby Stadium, which is decked out in blue and white, Advance Soccer Complex wouldn't be branded with EHS marketing materials and logos since the complex would be intended for all Enid area soccer organizations to use.
Lavoie, along with leaders of both the soccer club and the sports association, all have said they've heard of discussions and held meetings about Northern Oklahoma College restarting its men's and women's soccer programs at its Enid campus.
However, the vice president who oversees the satellite campus said the Jets likely wouldn't be touching down on a soccer field in the fall.
"At this time we are not planning to bring soccer to Enid," Jeremy Hise said Wednesday in an email to the News & Eagle.