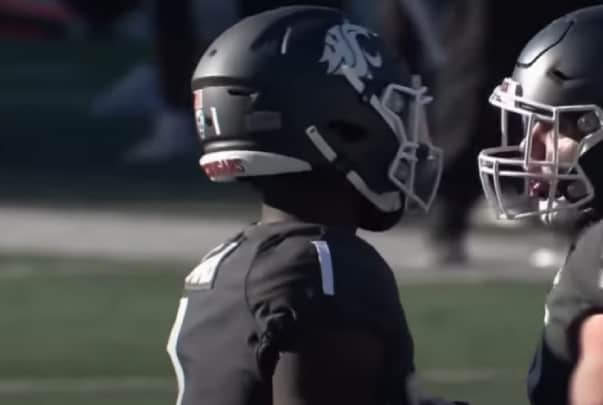 Washington State Cougars quarterback Cameron Ward.
Washington State Cougars got out to a big lead in the first half and held off a rally in the second to pull out a 28-18 win over Arizona State. Here are our 6 big takeaways.
The Washington State Cougars used a balanced attack to beat the Arizona State Sun Devils 28-18. Washington State scored first on a 2-yard run up the middle by Nakia Watson in the first quarter. On the next series, Wazzu wide receiver Leyton Smithson caught a 2-yard touchdown pass, but the extra point conversion was blocked, and the Cougars led 13-0.
The Cougars expanded their lead to 28-0 at halftime as Watson found paydirt two more times. Unfortunately, Washington State was held scoreless in the second half. Arizona State put up 18 points but could not overcome their bad start.
Balanced Attack
The Washington State Cougars were very even on offense. They passed 37 times and ran the ball 35 times.
Having a balanced offense keeps the other team's defense off balance. It forces them to worry about the run and the pass and not focus on one or the other.
Ground and Pound
On Saturday, Nakia Watson ran for 116 yards on 20 carries. He also added three touchdowns while averaging 5.8 yards per carry.
For the second game in a row, Wazzu's offensive line has done an excellent job opening up holes for Watson and Jaylen Jenkins. The latter added 43 rushing yards to the offense's total.
No Giveaways
Cameron Ward threw for 219 yards and a touchdown while completing 22 of 37 passes. Just as important, Ward did not turn the ball over, and that's it s good for the Cougars.
The Cougs QB has done well the last two games, not turning the ball over. If he continues to take care of the pigskin, Washington State has a solid chance to win the rest of its games.
Defensive Standouts
Although the Washington State Cougars defense gave up 18 points in the second half, the Cougars pitched a shutout in the first half.
They were outstanding on third downs holding Arizona State to 3 of 14. Although they gave up 121 yards rushing, ASU only averaged 3.6 yards per carry.
The Cougs sacked ASU quarterbacks four times, with two coming from Brennan Jackson. Daiyan Henley led Wazzu with ten tackles. Cornerback Chau Smith-Wade pitched in on the defensive effort with an interception.
Bowl Eligible
With the win over ASU, Washington State picked up their sixth victory of the season and is now bowl-eligible. They play Arizona next week, a very winnable game, before hosting Washington in the Apple Cup.
Even though Washington State won this game, they shouldn't be overly happy with their performance in the second half. Getting shut 18-0 shouldn't happen, Wazzu is better than that.
Let's keep it positive. There is now an extra game for Washington State Cougars fans to enjoy.