Posted on July 16, 2022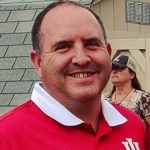 By Stephen Vilardo, SuperWest Sports

For the third-straight year, we present our Pac-12 all-region teams, beginning with the Northwest.
Selections are based on projections of how players will perform this year, without regard for how their respective teams may fare in the upcoming season.
Here are my preseason choices for the best players at each position collectively from Cal, Stanford, UCLA, and USC for 2022, two teams deep.
Jack Follman's All-Northwest Selections appeared last week, and Dane Miller's All-Southwest/Mountain teams will appear next week.
Our Preseason All-Pac-12 teams, as voted on by our senior writers, will be published before Media Day.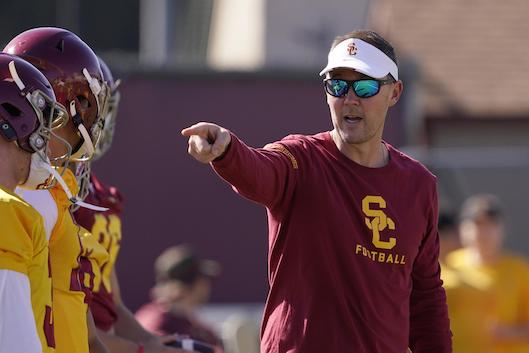 Coach of the Year:

Lincoln Riley,

USC
The expectations are for an immediate reversal of fortunes in Los Angeles for the Trojans.
Riley has a roster loaded with playmakers, some of whom were inherited and some that he brought in as transfers. He amassed a 55-10 record in five seasons at Oklahoma and the turnaround should begin in Year One.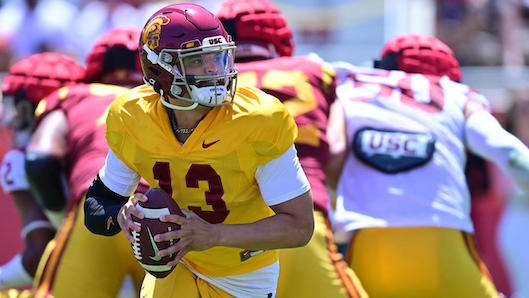 Offensive Player of the Year:

Caleb Williams,

Quarterback,

USC
My selection for offensive player of the year and coach of the year really depended upon each other and I don't think either one gets the title without the other one.
From the moment he took over at QB against Texas last season Williams was a star in the making. The talent around him is even far superior to what he had in Norman last year.
Not only do I see him as the Offensive Player of the Year among the four California teams in the Pac-12, but I see him making Heisman waves with the numbers he could put up.
Def Player of the Year:

Tuli Tuipulotu,

Defensive Lineman,

USC
Tuipilotu will be the anchor of the Trojan front seven and will cause problems for opposing offenses. He will get to the QB and when he does not, his active hands will disrupt passes after they come out as well.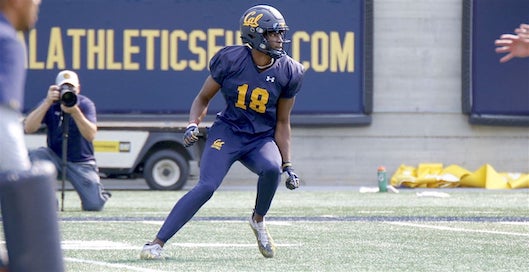 Off Freshman of the Year:

J. Michael Sturdivant,

Wide Receiver,

Cal
Sturdivant was a highly touted recruit for the Bears in the class of 2021 with other options coming from the likes of LSU, Oklahoma, and Michigan to name a few.
After a redshirt season last fall, Sturdivant should be a top target for Cal and could work his way into the starting lineup within the first few games if not from Game One.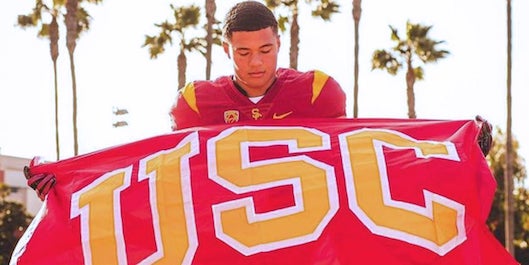 Def Freshman of the Year:

Domani Jackson,

Defensive Back,

USC
Jackson brings size (6-1, 190) and speed (10.5 100m runner in HS) to the Trojan defensive backfield.
He was the second-highest rated CB in the class of 2022 by most recruiting services and should be able to make an immediate impact for USC on the defensive side of the ball.
All California Region First-Team Offense
QB: Caleb Williams, USC
Williams followed his head coach from Oklahoma, where he replaced a struggling Spencer Rattler in the Texas game then started the final seven games for the Sooners leading them to a 5-2 mark.
He will add a running element to the QB spot that the Trojans have not seen in quite some time. He ended last season with 1,912 passing yards while completing 64.5 percent of his passes and connecting on 20 TD vs four interceptions.
He added another six TDs and 442 yards on the ground.

RB: Zach Charbonnet, UCLA
Charbonnet has the size to run through people and the quickness to make them miss. Last season he averaged 5.6 yards per carry while rushing for 1,137 yards and 13 TDs for the Bruins.
Not only is Charbonnet the best back among the four California schools and in the Pac-12, but he may also be the best back in America. Look for him to be a Doak Walker finalist this December.
RB: Travis Dye, USC
The Oregon transfer has a nose for the endzone and the ability to change a game in a number of ways. Dye scored 16 TDs in 14 games for the Ducks last season.
He racked up 1,673 yards from scrimmage in 2021 with 1,271 on the ground for a 6.0 yards per carry average in addition to 46 receptions for 402 yards.
As the primary back for Oregon last year he did not return any kick but has a 20.3-yard average on kick returns in his career. Dye will be a versatile threat for the Trojans this season.
WR: Jordan Addison, USC
Addison is another transfer for the Trojans, and the 2021 Beltnikoff winner should be a clear-cut favorite to repeat.
In his sophomore season at Pitt, he caught 100 passes for 1,593 yards and 17 TDs—the second most in a single season in ACC history, and tied for the most in the nation.
WR: Jake Bobo, UCLA
For the second WR spot on my first team I will again go with a transfer to LA, but perhaps not the one most people would think of. Bobo brings his 6-foot-5 215-pound frame to Chip Kelly's offense from Duke.
He caught 74 passes for the Blue Devils a season ago, 43 of them resulting in a first down, and on third down, he caught 14 passes with 12 of them moving the sticks.
He was not targeted in the red zone much for Duke, but his frame and hands should make him a top target for UCLA in scoring situations.
TE: Benjamin Yurosek, Stanford

Yurosek averaged 15.3 yards per reception last year for the Cardinal, which was the eighth best in the nation among TEs. The former Linebacker had 31 receptions for 530 yards in the final seven games last season.
And 29 of his 43 receptions resulted in a Stanford first down or TD, while 13 of them went for at least 20 yards. He was the only Pac-12 TE last year with multiple TD receptions of 40+ yards.
OL: Andrew Vorhees, USC
Vorhees split time at guard and tackle last year while earning Third-Team All-American honors from the AP while also being named USC Offensive Lineman of the Year.
He allowed just one sack last season and was the only player in the nation to earn 90+ grades from Pro Football Focus in both run and pass blocking.
OL: Matthew Cindric, California
Cindric has started at guard and center for the Bears during his career and should be on the ball this season for the start of Cal's offensive plays. A year ago, he was named to the Coaches All-Pac-12 honorable mention team.
OL: Branson Bragg, Stanford
Last year Bragg's season was cut short by an injury. He will be back for the Cardinal this fall and is versatile enough to play any of the five positions on the line. He should be the starting right guard and provide a lift to the Cardinal offense.

OL: Ben Coleman, California
Coleman was voted Cal's most improved offensive lineman in 2021 and the 6-4, 325-pounder will be a mainstay for the Golden Bears at a guard spot.
He was instrumental in Cal's 636-yard game against Stanford last season while earning Pac-12 Offensive Lineman of the Week honors for his efforts.
OL: Brett Neilon, USC
Neilon should be an All-Conference performer this season. The 6-foot-2, 295-pound center figures to anchor the middle of the Trojan offensive line. He has been the starting center for USC in each of the last three seasons.
All California Region First-Team Defense
DL: Tuli Tuipulotu, USC
As a sophomore in 2021, Tuipulotu was named USC's Defensive Lineman of the year, racking up 7.5 TFL and leading the team with 5.5 sacks.
Tuipilotu is versatile for a defensive tackle and was able to alter the passing game even without getting to the QB, collecting two pass deflections. He also forced a pair of fumbles, returning one for a TD. He has 70 tackles in 18 career games.

DL: Nick Figueroa, USC
Figueroa has fought through nagging shoulder injuries since joining the Trojans in 2019. Despite the injuries, he appeared in all but three games during his time at USC.
Last year he was a semifinalist for the Campbell Trophy. During his breakout season in 2020, he collected 3.5 sacks and 7.0 TFL in six games.
Should he stay healthy you can expect to see similar production this season at defensive end.
DL: Brett Johnson, California
Johnson missed all of 2021 after having hip surgery because of an automobile accident. His rehab is complete, and he is prepared to be a major cog in the Bears' defense.
If he can regain his 2021 form, he will be quite the force. During Cal's COVID-19-shortened season he amassed 20 tackles, 2.5 TFL, and 1.5 sacks along with two passes defended in just four games.
DL: Korey Foreman, USC
Korey Foreman was a top recruit for the Trojans a season ago, appearing in 11 games, getting just 11 tackles but adding 2.5 sacks while totaling 3.5 TFL.
Foreman is an explosive athlete, and if he can stay healthy, he could be a real difference-maker for USC on defense. He is slotted to be an edge rusher this season and will certainly create havoc on QBs.

LB: Jackson Sirmon, Cal
For his senior year, Sirmon joins Cal, where his father Peter is the defensive coordinator, after a career at Washington.
He recorded a career-high 92 tackles with the Huskies last season while forcing a fumble, forcing a safety, and intercepting the first pass of his career.
LB: Darius Muasau, UCLA
Mausau was a two-time All-Mountain West First-Teamer for Hawaii. Last season he was fifth in the nation with five forced fumbles and returned an interception for a 75-yard touchdown.
His 109 tackles last season were a team-high. His nose for the ball and leadership qualities should bode well for the Bruins this season.
LB: Eric Gentry, USC
Once again, we get another transfer in the LB spot on this list. Gentry was a freshman All-American for Arizona State in 2021.
He has a slight frame at 6-6, 205, but while that might be a bit undersized for a linebacker, he will not be limited in coverage on pass plays. Alex Grinch-led defenses are known for getting takeaways and Gentry's nose for the ball will fit in nicely in that system
DB: Kyu Blu Kelly, Stanford
Stanford had several issues last season, but Kelly was a definite bright spot for the Cardinal. He led the Pac-12 and ranked 15th in the nation last season with 1.09 passes defended per game.
On pass coverage, he held quarterbacks to a passer rating of just 87.8. For comparison's sake, the lowest team passer in the nation last season belonged to UConn with a 92.3.
DB: Daniel Scott, Cal
Scott had a career year last season for the Bears and there is no reason to believe he will not improve in 2022. He averaged a team-high 6.8 tackles per game last year while intercepting three passes and breaking up another two.
He was able to get to the QB from his Safety spot, registering 4.5 TFL a sack and two QB hurries. He opens his final campaign in Berkeley on the Lott IMPACT Trophy watch list.

DB: Kendall Williamson, Stanford
Williamson registered six passes defended in 2021 to go along with 67 total tackles on the season.
He proved a season ago that he can cause problems in the offensive backfield with 3.5 tackles for loss and 1.0 sacks to go with a forced fumble.
DB: Mekhi Blackmon, USC
USC once again has a transfer showing up on this list as Blackmon comes to Los Angeles after spending the last four seasons in Boulder with the Buffs following a lone season at the Junior College level with the College of San Mateo.
For Colorado in 2021, he defended five passes and had an interception and fumble recovery along with averaging 5.6 tackles per game.
All California Region First-Team Special Teams
K: Dario Loghetto, Cal
He went 11-of-14 on field goals last season and has a career long of 52 yards while connecting on 79% of his attempts over the last two seasons.
Loghetto has a strong leg and probably has more in him than the 52-yarder. Last season he had a touchback on 34.6% of his kickoffs.
P: Ryan Sanborn, Stanford
Sanborn averaged 43.3 yards per punt last season, ranking 37th in the nation and fifth in the Pac-12. Nineteen of his 63 punts in 2021 pinned opponents inside the 20-yard line.

R: Kazmeir Allen, UCLA
Allen has track speed and spent the spring of 2019 with the Bruins track team where he ran a 10.61 100-meters.
He averaged 29.1 yards per kick return in 2021, which was the 11th best in the nation. Against USC he returned four kicks for a 40.8-yard average, including a 100-yard TD return.
AP: Casey Filkins, Stanford
Filkins could see time for Stanford as a RB, WR, and on returns. Last season he averaged 14.9 yards per punt return, which would have ranked third in the nation and the best in the Pac-12 if he had not missed the final five games of the season with an injury.
Second-Team Offense
QB: Dorian Thompson-Robinson, UCLA
RB: Damien Moore, Cal
RB: EJ Smith, Stanford
WR: Mario Williams, USC
WR: Michael Wilson, Stanford
TE: Malcolm Epps, USC
OL: Sam Marrazzo, UCLA
OL: Drake Nugent, Stanford
OL: Walter Rouse, Stanford
OL: Justin Dedich, USC
OL: Raiqwon O'Neal, UCLA
Second-Team Defense
DL: Romello Height, USC
DL: Anthony Franklin, Stanford
DL: Ethan Saunders, Cal
DL: Stanley Ta'ufo'ou, USC
LB: Shane Lee, USC
LB: Ricky Miezan, Stanford
LB: Bo Calvert, UCLA
DB: Calen Bullock, USC
DB: Devin Kirkwood, UCLA
DB: Domani Jackson, USC
DB: Lu-Magia Hearns III, Cal
Second-Team Special Teams
K: Nicholas Barr-Mira, UCLA
P: Atticus Bertrams, USC
R: Gary Bryant, USC
AP: Brenden Rice, USC
---
—More from Stephen Vilardo—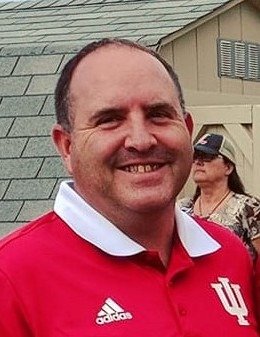 Latest posts by Stephen Vilardo
(see all)